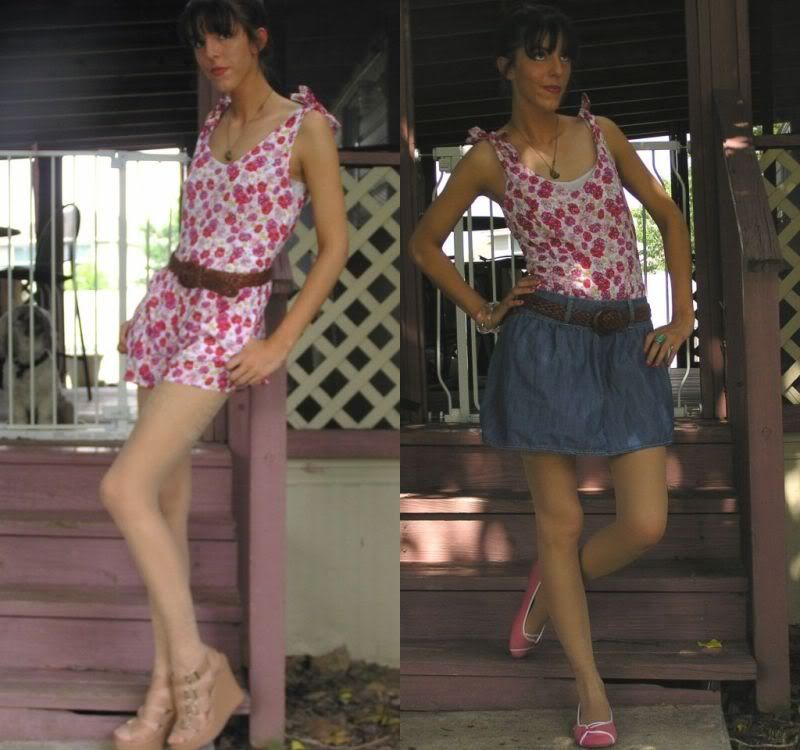 Backstory- It was ridiculously hot this weekend! I picked up this romper for 5 measly dollars sometime last week, I just couldn't pass it up! So, with the hot weather I figured it would be perfect. I did decide to still wear some tights, they're light and lacy though, so they were still great to wear. Plus I felt the need for them because the shorts on this romper are so darn short! That's what I get for being Amazon woman, I guess. I also got them on sale from UO a loong time ago and have been waiting for the moment to debut them. 
So anyway, I threw this on and styled it up a bit for some photos, but decided I'd feel more comfortable in real public with a skirt and some flats, so when I changed I had a great idea to also document it, and voila, Two for One Sunday has been born. I'm thinking this might be something I do just like once a month for now where I show how I styled up one piece two different ways. Really all I did was put on the skirt and change my shoes, but I think it gives it a completely different feel, that I honestly liked more. What do you think?
A couple of quick notes about the photos, I had read that uploading them through photobucket instead of blogger makes them look better, but I'm not sure, and plus now they're all different sizes and I don't really like that look. How do you upload your pictures, and what works best for you?
Plus, I'm using my boyfriend's mac and I feel like the picture on this screen is a little distorted, so if my pictures do look funny it could be because I edited them on here. It'll have to do for now while my laptop is still sick. :(
Romper- Miley Cyrus&Max Azria from Walmart $5!/Skirt- Forever 21/Belt- Thrifted/Tights- Urban Outfitters $5(I think)/Wedges- Forever 21(borrowed from mom)/Flats- Steve Madden from Ross $10!/Bracelets- Thrifted $1 each!