I've gone back into my "Wear these things or get rid of them pile" for this outfit. I got the skirt during winter time, so it's not really fair of me to threaten that when it hasn't even been the right weather for it. But I think today proved to me that I will definitely get plenty of wear out of it, so I think we're safe on that one. The top I got because the pattern is really interesting and dynamic.. but that's given me a hard time finding something to pair it with. Luckily today was perfect weather for this skirt, so I decided to pick out the pink and yellow from the top and play off of that, while leaving my shoes a neutral. I think it turned out pretty well. :)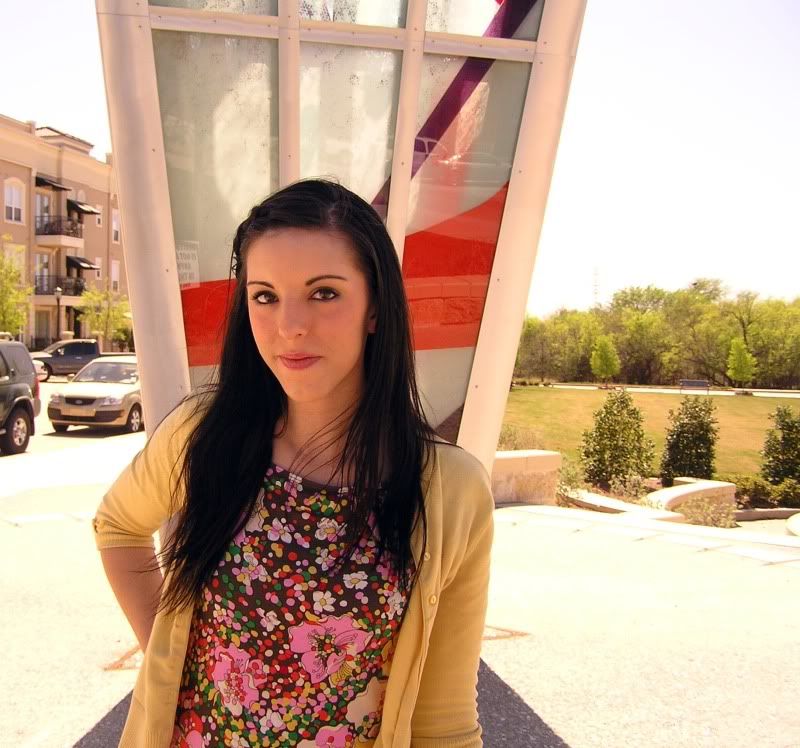 This cardigan is something I have to tell myself NOT to wear sometimes. It's just so darn cute, and is the perfect shade of yellow. I think I could find something to wear it with every single day of the week. But you would get sick of that, so be glad I can tear myself away from it sometimes. But it was just too perfect to not put with this top and skirt. Also, I think we're officially to No-Tights Weather now. I have to get used to exposing my leg skin again. Oh No!
Wedges are definitely going to be go-to shoe wear until it starts getting cold again, I think. I have an issue with heels.. even though they are insanely cute usually, and make outfits more interesting.. I just have really terrible pain in the balls of my feet sometimes that doesn't sit well with anything with a heel on it. However, wedges help take some of the pressure off that area of my foot, so they don't hurt nearly as bad, and I haven't found a wedge I don't like. So I'm starting up a collection. haha. So yes, lots of floral(of course), Lots of color combined with neutrals, and lots of wedges! I just love spring. What will be your go-to items for this beautiful season?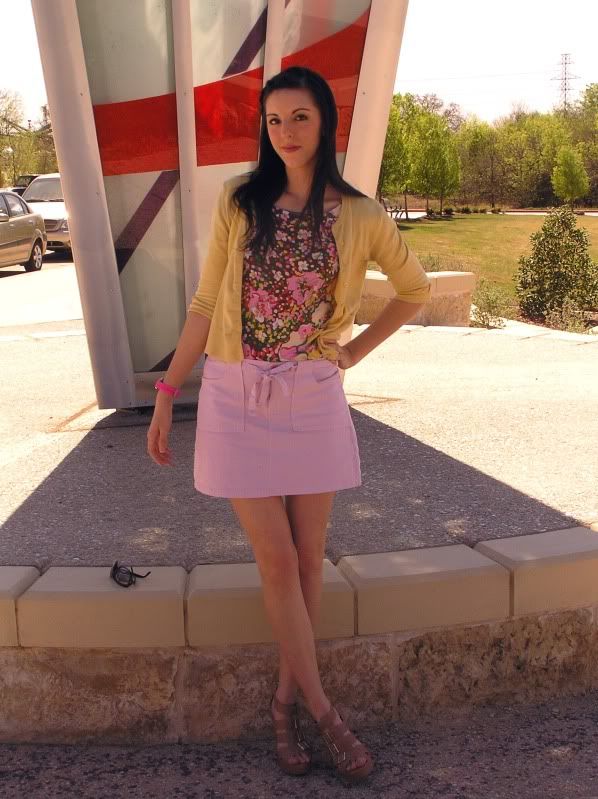 Top, Cardigan and Skirt- Thrifted (all about $.20!)/Shoes- Forever 21 (Borrowed from mom...permanently)/Watch- Christmas gift from aunt
That brings my outfit total to about SIXTY CENTS. Give or take a few. Dang, that's thrifty. :)